Easy to make and full of essential nutrients, these beetroot and red pepper crabs are a great way to get your children enjoying a healthy plate. Invented by Mili, SuperPirates' very own qualified nutritionist.
What makes them good for your child?
High levels of antioxidants make these little critters a superfood and great for the immune system. Rice and quinoa provide your child with slow release carbs, giving them a steady energy supply throughout their busy day. Quinoa is also rich in protein and a great source of minerals such as iron. To help your children make the most out of consuming iron from vegetables, it's helpful to get some vitamin C into the body too - the red peppers see to that!
Fun fact: historically beetroot was used medicinally for a range of ailments, including fevers and skin problems. In short, these crabs are a great catch!
Science aside, this is a fun activity to enjoy at home with your child. When children make food they take ownership of it, they take pride in it, and they understand more about what's on their plate. Get chopping!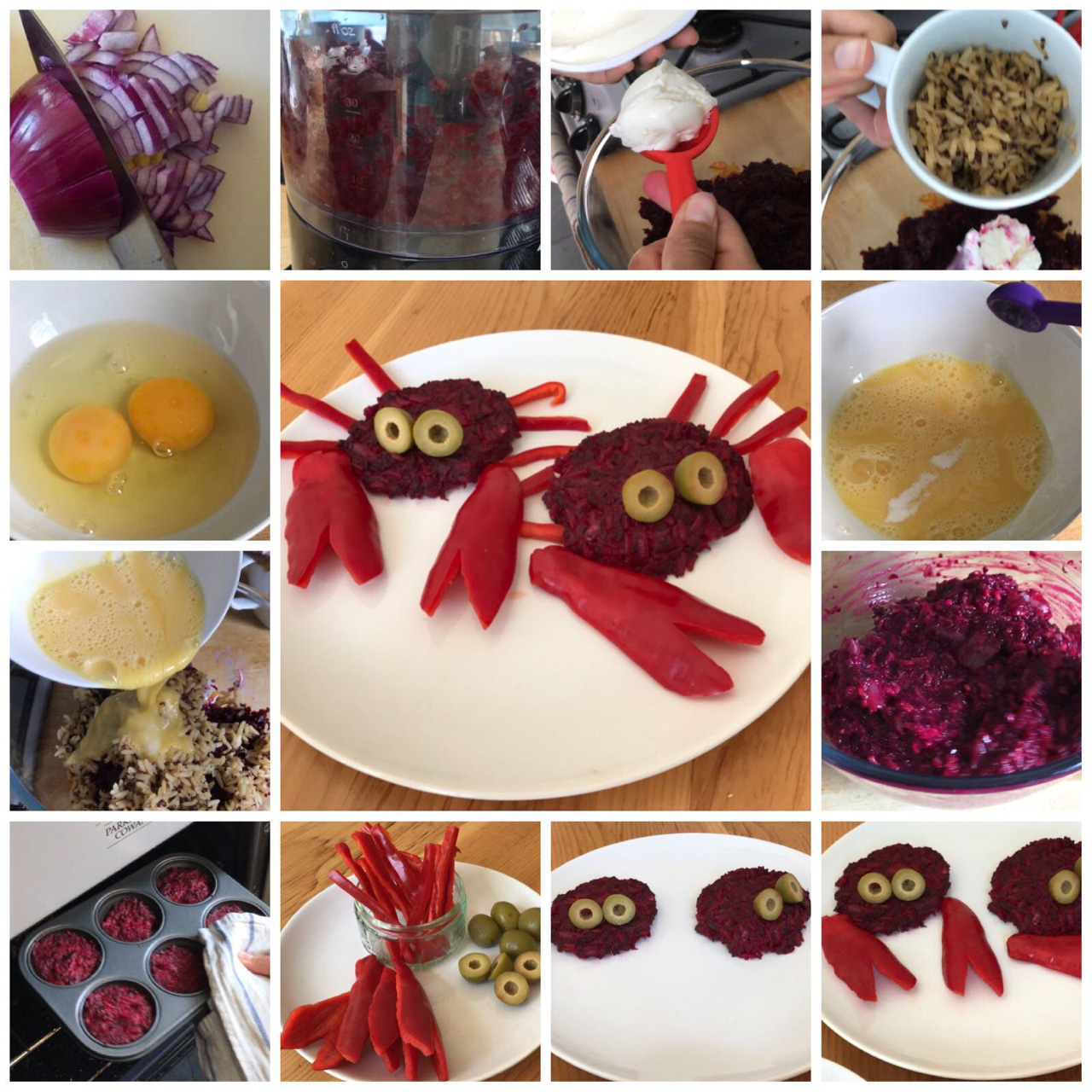 Ingredients (making 10 crabs):
1 red onion
4 medium beetroots
1 tablespoon cream cheese
1/2 cup rice
1/2 cup quinoa
2 eggs
1/2 teaspoon salt
10 olives
3 red peppers
Method:
Finely chop and fry the red onion
Cook and peel the beetroot and then blend or cut into cubes
Add 1 tbsp of cream cheese
Add 1/2 cup of cooked rice + 1/2 cup of cooked quinoa
Add 2 beaten eggs with 1/2 tsp of salt
Mix all together in a bowl
Mould the mixture into patties and place on an oiled baking tray
Bake in the oven at 180 degrees or gas mark 6 for 15 minutes. Leave to cool for another 10 minutes.
Cut the olives into halves and cut the red pepper into thin slices and crab claw shapes
Assemble the ingredients and enjoy.